Cortijo Abril
El paraíso de la subbética
"A place where memories are made; a hidden place to discover, find oneself and heighten your senses."
My name is Antonia Marín, I am a professional interior designer and for some time now hostess of Cortijo Abril. 16 years ago we acquired this beautiful Andalusian farmhouse with
three floors and over 150 years of history, surrounded by pines, firs, mulberry trees and a lime tree that has for decades provided us with shade at just the perfect spot.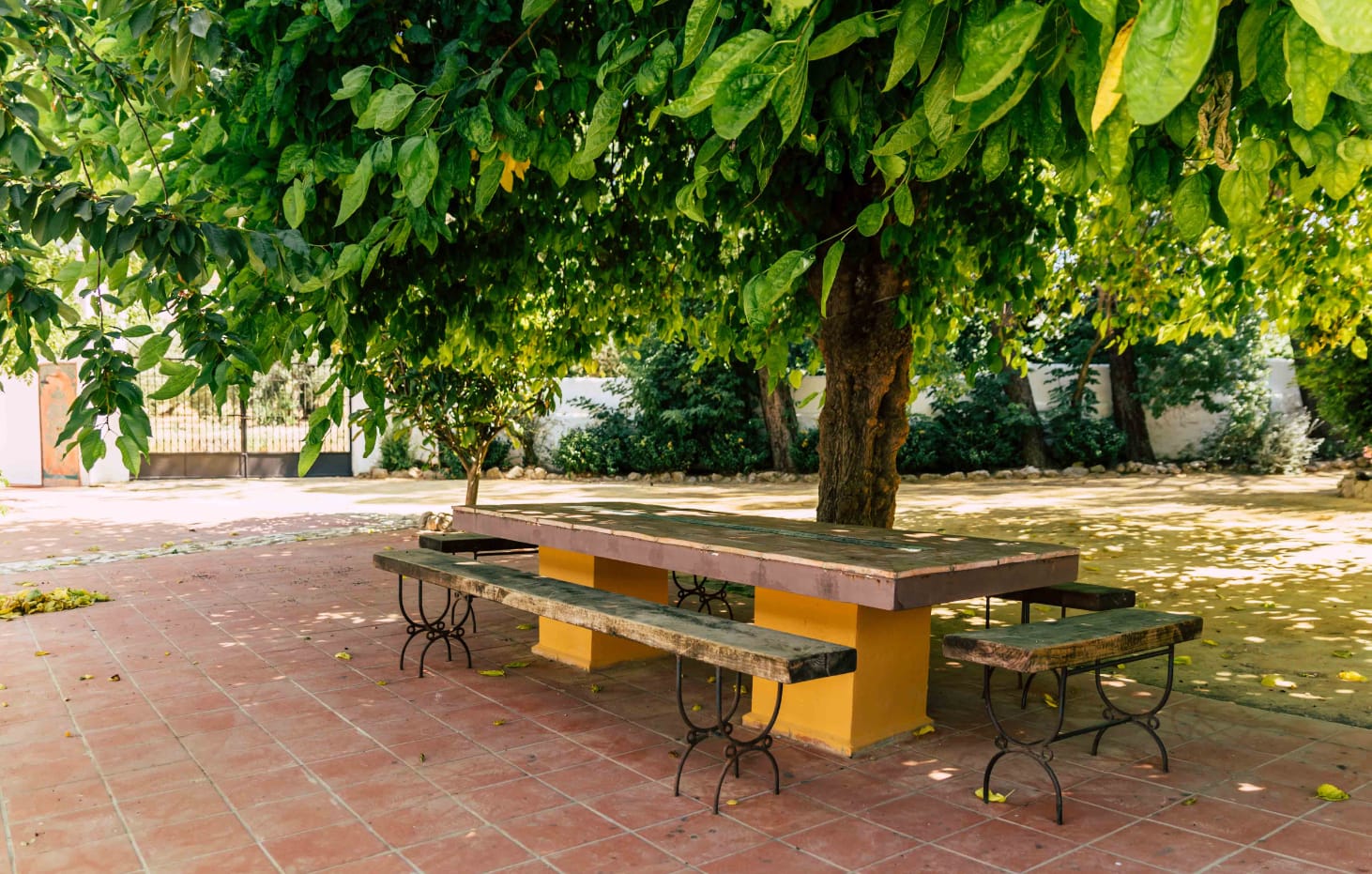 "It has provided a stunning backdrop for flamenco and equestrian performances, as well as eighties rock concert experiences that neither we nor the guests will ever forget."
Make your reservation
Cortijo Abril is a unique place – a classic Andalusian country property with the latest comforts that is set within a beautiful natural park on the upper slopes of the Subbetica mountain range, the Sierra de la Horconera. It will also be a special place for you and all the experiences that you will enjoy here, as soon as you decide to honour us with your visit.
The cortijo is surrounded by a white wall in the purest Andalusian way, it is a place where for a few days you can take a break from running around after the children and devote all your attention to the barbecue, a paella cooked on an open fire or if you are feeling a bit adventurous… why not a roast in our wood-burning oven?
If you decide to visit us during the winter, take a cosy spot in front of the fireplace in the Campero lounge. Or, if you fancy having a leisurely afternoon chat or are in the mood for enjoying a good book, just sit back and settle in to the warmth of the fireplace in our main hall.
Should you decide to come during the summer months, must bring your swimsuits together with your enthusiasm to enjoy poolside relaxation surrounded by glorious nature.
If, as in my case, you're a reading enthusiast, you will find magical corners waiting for you to be carried away by a book. Should you want to take the reading experience a bit further, what better place than our loft meditation room? There, in front of a large window overlooking the mountains, you can relax, read and contemplate in perfect style.
Whenever you decide to come, be it summer, winter, autumn or spring, Cortijo Abril is a wonderful country estate that epitomises each of the seasons and their unique atmosphere and beauty. What awaits you are wonderful sunsets and the charm and comfort of a unique country house with inspiring views.
"You will certainly leave us longing to return..."